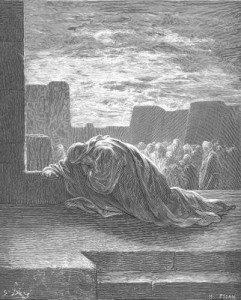 Football fans love to celebrate spectacular touch downs won by deep passes and long runs but we seldom cheer the gain of a few yards even though it's the few yard gains hard fought for that have won many a game. The military understands this as well, that some battles are won by persistence. And our spiritual enemies too know that they have conquered souls and brought them to ruin by wearing down the faithful. That's why it's extremely important to stay vigilant and never to loose heart for the fight.
An every day life example of vigilance might be the ant problem that we battle annually near the tail end of summer and into the early fall. While I know that Raid and other toxic chemical concoctions have the long lasting effect of eradicating the vermin we choose not to use such toxins. So in season we fight the battle of the ants almost daily, with safer more green alternatives. The ants stop for a while and then they come back. This goes on for a few weeks until the ants finally give up. It's a frustrating experience but if we gave in and used the toxic stuff who knows what affect that would have on us in the long run. And that's what these battles are about; the long run not just the immediate gain of a few yards but the cumulative gain of a first down, the taking of a hill, the conquering of vice. Once the ants are gone I have a sigh of relief but I start looking for other areas where they might shift their activity. It's the same way with demons who will try to gain a toehold anywhere they can. That's why I think it's important to reinforce the message that you should never give out… never give in… and never give up. And if we loose ground its important to remember that the goal is a first down, then a touchdown and then the final score. Don't give up your prayer life, not when your tired while the going is tough and not when when your bored while the going is easy. Vigilance is twenty-for-seven.
The fictional character Rocky is exemplary in this respect. In the original movie Rocky and in the newest movie Rocky Balboa, his goal was less to win than it was to "go the distance". Finishing the race was wining and that kind of winning only comes by getting up when you're knocked down. Sylvester Stallone wrote it this way in the new movie, "But it ain't about how hard ya hit. It's about how hard you can get hit and keep moving forward. How much you can take and keep moving forward. That's how winning is done!" Saint Paul said something like it too. He said to run the good race (NAB).
2 Timothy 4:7

7

I have fought a good fight, I have finished my course, I have kept the faith.
And
1 Corinthians 9:24

24

Know you not that they that run in the race, all run indeed, but one receiveth the prize? So run that you may obtain.
Prayer is a battle of constant vigilance with a view toward heaven. So pray, even when you think you can't… even after you have been knocked down… just open your heart, then open your mouth and speak to God, remembering that your true home is His Kingdom. He knows you are knocked down and He'll lift you up.
A good prayer for deliverance is the Our father because it ends with "deliver us from evil," or the prayer to Saint Michael because it provokes the Archangel through God to defend us, but here I would like to share with you O Saving Victim (O Sal­u­tar­is Hos­tia – written by Saint Thomas Aquinas and generally sung at the Exposition or Benediction of the Blessed Sacrament) because in it we plea for assistance and ask God to grant us eternity in heaven.
O saving Victim, open wide
The gate of Heaven to man below;
Our foes press on from every side;
Your aid supply; Your strength bestow.
To your great Name be endless praise;
Immortal Godhead, One in Three;
Grant us, for endless length of days,
In our true native land to be.

Share on Facebook